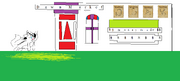 Th dawn market opens and closes at sun rise.
The Customer of the centurie there is Lunifer because The manager is a big fan of him and studies him when he was a kid.
This is the menu for the market down below.
___________________________________________________________________
(BREAKFAST)
Gulauge - $1 Gold
Chicken mariola - $5 Rubies
Totee sandwhiches - $3 Sapphires
Cookies and cream sumanio mix - $5 Diamonds
(LUNCH)
Pears and macaroni delights - $8 Bones
Manama soup -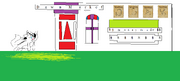 $5 dollars
Menola tea - $1 gold
(DINNER)
Baggles ala moe - $5 Cups of fizzles
Fried chicken - $1 Coin
Me saku mofeio - $5 Gold Holly cripo - $10 Silver
(DESSERT)
Kotatapona chill beans - $10 Emeralds
Ko manama pepi - $8 Bronze Coins
Heitatu moneema - $2 Candy wrappers
(Le end.)
Nightwing (For one day)
Lunifer (For a week)
Pedroinah.
Main customers
Edit
Nightwing.
Starflight and the kits.
Scartail.
Dropmoss and her kit.
Coppertail
Bluepelt.
Firepelt.
The manager.